[Buch] Collaborative Futurs: … über den wahren Gehalt gemeinschaftlichen Schaffens als Form des kreativen Ausdrucks im Kontext digitaler Netzwerktechnologien. 'Collaboration' verstehen die Autoren nicht als Buzzwort unternehmerischer oder ideologischer Interessen, hoffentlich erkennen sie auch die evolutionären Züge und damit die historische Dimension dieses Phänomens an.
[Papier] Martin A. Nowak: "Five Rules for the Evolution of Cooperation", Science Vol. 314 no. 5805 pp. 1560-1563 2006.
Cooperation is needed for evolution to construct new levels of organization. Genomes, cells, multicellular organisms, social insects, and human society are all based on cooperation. Cooperation means that selfish replicators forgo some of their reproductive potential to help one another. But natural selection implies competition and therefore opposes cooperation unless a specific mechanism is at work. Here I discuss five mechanisms for the evolution of cooperation: kin selection, direct reciprocity, indirect reciprocity, network reciprocity, and group selection. For each mechanism, a simple rule is derived that specifies whether natural selection can lead to cooperation.
[Blog] mushon: frisch, isrealisch und wohl gestaltet, verbal, intellektuell und visuell!
[Idee] Sarah Stierch referierte heute über Wikipedia und indigene Menschen. Im wesentlichen ging es um Wikipediaedition der "Native Americans". Kontrovers ist dabei die Sinnfrage, denn Mitglieder dieser Minderheiten sprechen alle englisch und haben prinzipiell über die englische Wikipedia Zugang zu freiem Wissen. Andernfall sollen wir in der Lausitz auch mal darüber nachdenken, unseren "Native Lusatians" eine Wikipedia Edition auf _sorbisch_ ermöglichen.
[Held] Die Anzahl kasachischer Wikipedians, die mehr als fünf 'edits' (dt. Bearbeitungen) vorgenommen haben, stieg binnen eines Jahres von 15 auf 231! Der Vorsitzendes des kasachischen Chapters bekam von Jimy Wales gleich mal den Preis Held der Arbeit Global Wikipedian of the Year verliehen.
[Zitat] "Wikipedia is a proxy in larger civil wars" (Dr. Joseph Reagle)
[Bild] Nicht funktionierende Vorführungstechnik kommt gern mit Vorführungseffekten einher. So geschehen beim Versuch eine Werbevideo die kandidatur zum Weltkulturerbe. Jimy Wals' verschlafener Gesichtszug sorgte ein paar Minuten lang für viel Gelächter: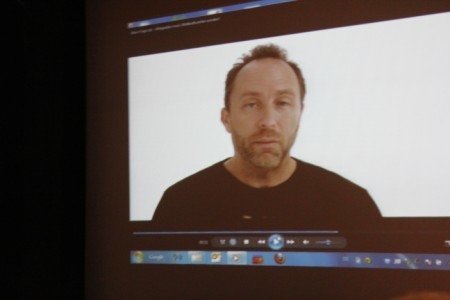 Ähnliche Beiträge: